Attribute Quick Add
Description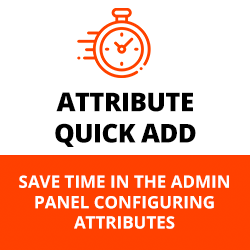 Attribute Quick Add extension enables administrators to quickly and efficiently manage attribute option values in bulk via the Magento admin panel.
Video Guide
Features
Quickly add option values to drop-down and multi-select attributes
Automatically de-duplicates options
Bulk change values
Extract option values and edit locally
Sort options into alphabetical order
Normally, attribute options have to be created manually one-by-one. Attribute Quick Add lets you create these en-masse by importing a list, in a process that is as easy as a copy-and-paste.
Installation Guide
Attribute Quick Add can be obtained from:
Both Composer and ZIP archive installations are supported.
Make a backup!

Direct installation of Magento extensions onto your production web site is not recommended or supported. We advise you to install this on a development version of your web site first to ensure correct operation with your particular Magento installation.

In addition, we advise you to make a complete backup of your Magento system (application files and database) before proceeding.
Version Compatibility
Attribute Quick Add is compatible with the following Magento platforms:
| Community Edition (Open Source) | Enterprise Edition (Commerce) | Cloud Edition |
| --- | --- | --- |
| 2.1.0 - 2.4.* | 2.1.0 - 2.4.* | 2.1.0 - 2.4.* |
Change Log
| Version | Release Date | Changes |
| --- | --- | --- |
| 1.1.0 | 14th January 2019 | Bug fixes. Improved compatibility with Magento 2.3 |
| 1.0.1 | 30th January 2018 | Minor Bug Fixes |
| 1.0.0 | 30th October 2017 | Initial Release |
General Usage
The Attribute Quick Add extension functionality can be found in the Stores → Attributes → Product section of your Magento admin panel.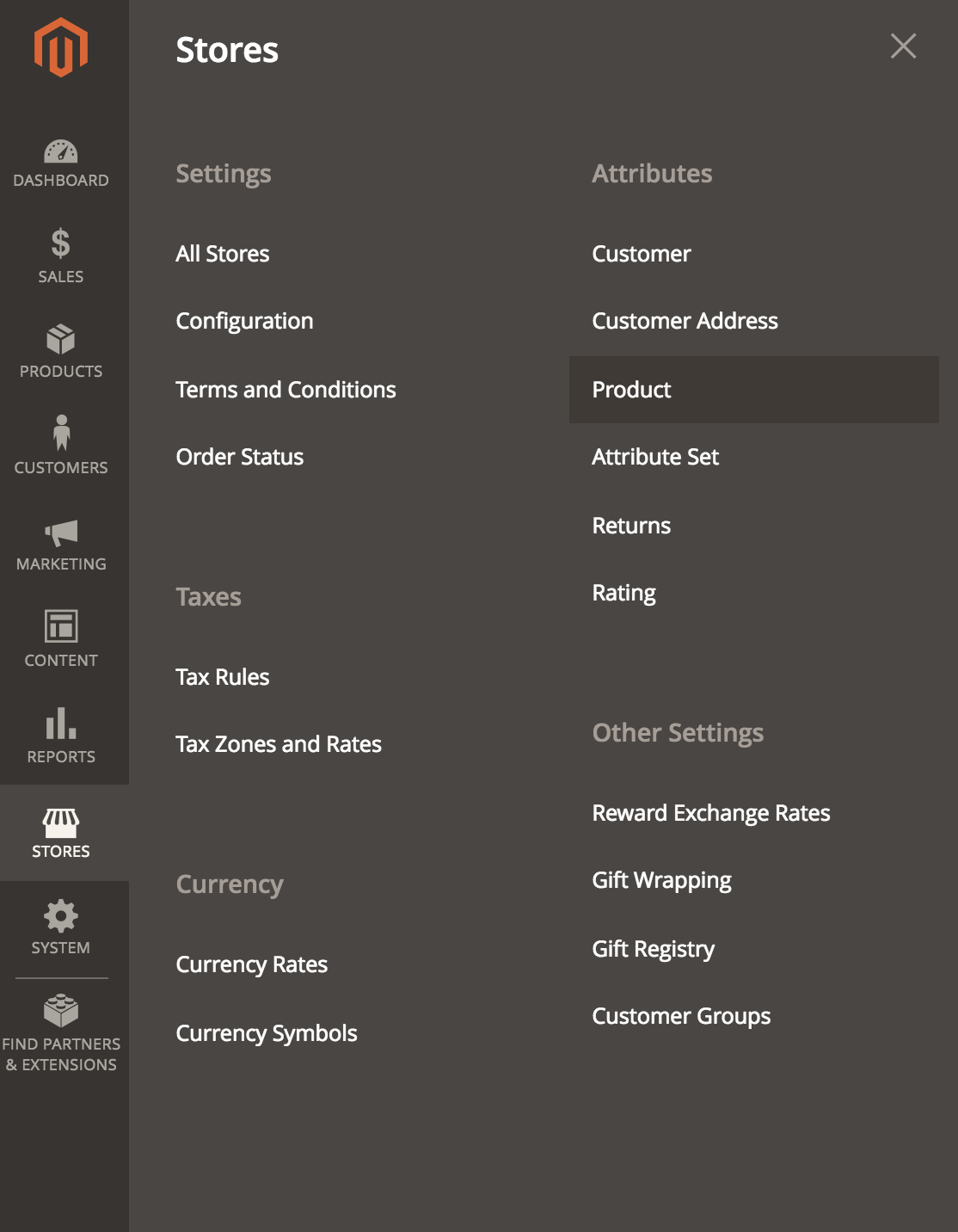 If you edit or create any attribute which is either a Dropdown or a Multiple Select, then you will see the Quick Add functionality displayed, as shown below in the Manage Options tab: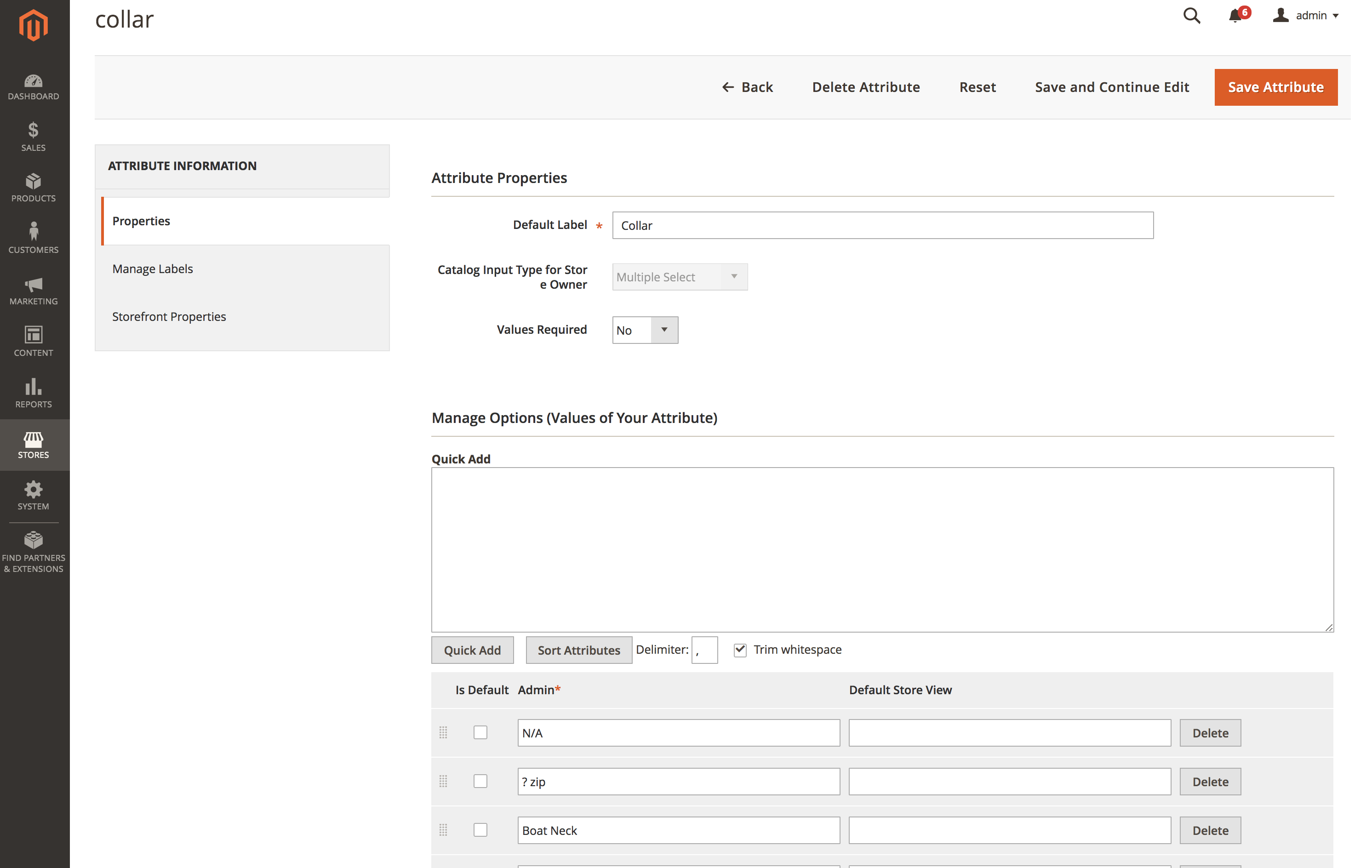 The functionality consists of the following elements:

Quick Add Text Field
In this text field, you should add each of the attribute options you wish to add to the current attribute. Each option should appear on a separate row of the field. You can either type the values into the field directly, or you can copy-and-paste into this field from another application.
Please note that each attribute option has at least two values, and potentially more if you have multiple store views defined. These represent the text label for the option to display in the admin panel, and each of the store views. For instance, please check the image below:

In order to import the above into Magento, the main Quick Add text field would need to be populated as follows:

The comma character acts as the delimiter for the values.
You can add as many delimited values per row as you have store views defined, for instance:

Sort Attributes
Clicking the Sort Attributes button will take the current list of already added attribute options below the quick add workspace and sort them in ascending alphabetical order - according to the 'Admin' column value.
As an example, if the button was pressed after adding the options shown above, then the options would be sorted and re-ordered as follows: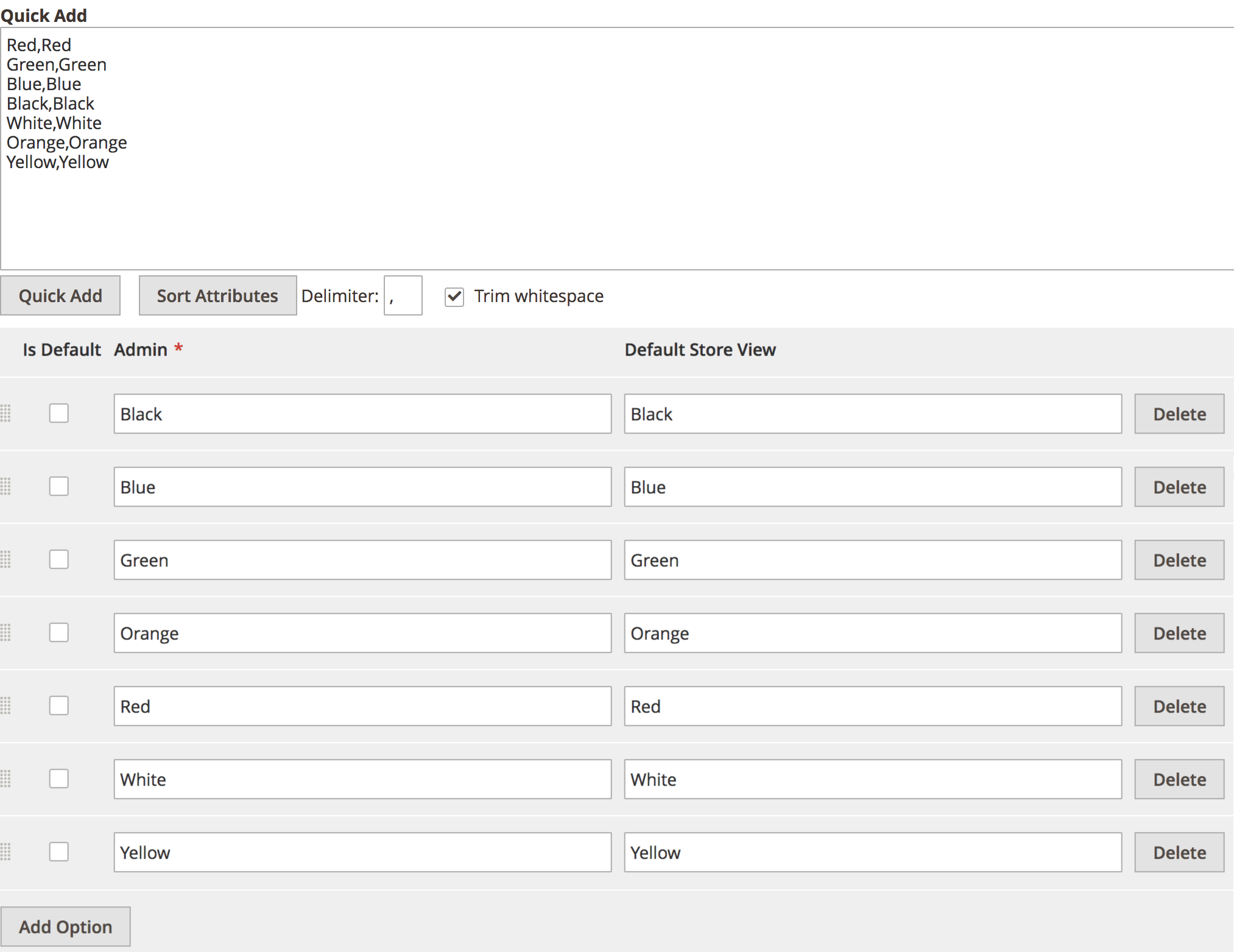 Delimiter Text Field
Sometimes the comma character is not ideal as a delimiter for your values. In this case, you can change this to any other character you need.
Trim Whitespace Checkbox
When this is ticked, any empty rows in your text field will not result in blank option values being created when Quick Add button is clicked.
Quick Add
When the Quick Add button is clicked, the values from the text field above are processed and automatically added to the options below. This is the big time saver that Attribute Quick Add provides - you don't have to enter them all manually one-by-one.
So, for example, if you were creating colour options, then your text field might be populated like this:

After clicking the 'Quick Add' button, this would change: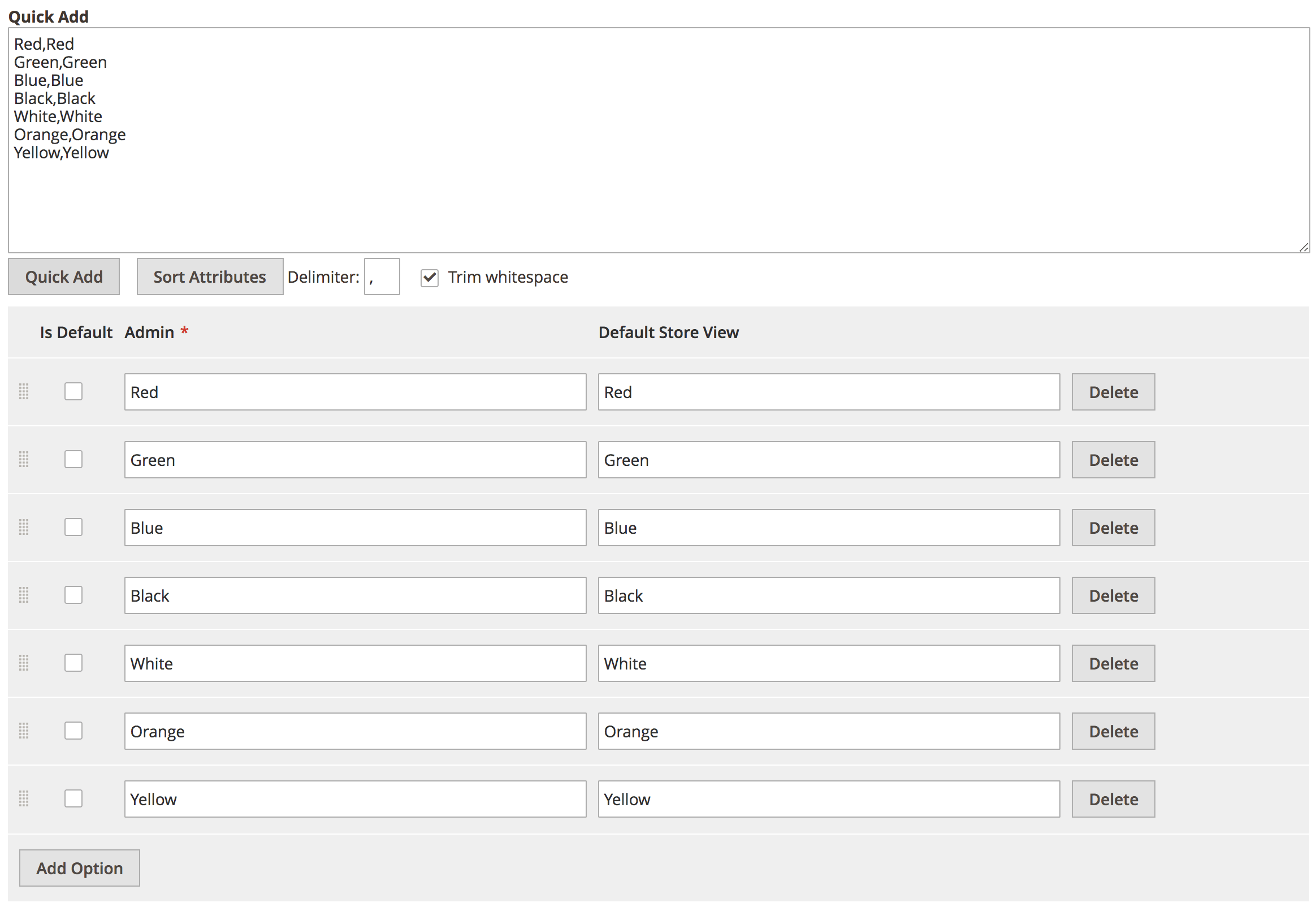 Notice how the 7 new attribute options have been created according to the values in the text field above.
If the text field contains values that already exist in the 'Admin' column, then those rows won't be imported in order to prevent duplicates being created accidentally.
Frequently Asked Questions
Which version of Magento is required?

Attribute Quick Add has been tested with versions 2.1.0 to 2.2.2 inclusive of the following:

Magento Open Source (Community Edition)
Magento Commerce (Enterprise Edition)
Magento Cloud Edition
How much does it cost?

Pricing is the same regardless of which Magento edition you have. However, if you want us to install the module for you, we charge extra for that.

It is licensed per server, so if you have multiple Magento instances, then you'll need to purchase multiple licenses.
Is it easy to install?

Yes. The extension is delivered as a Magento module that can be very easily installed. The process should only take minutes. Alternatively, we can install it for you.
Is the source code encrypted?

No. The source code is not encrypted so can be modified.
Is support available?

The extension is fully supported by On Tap. You are eligible for technical support and product updates for 365 days from the point of purchase. You can extend this, for additional cost, after it expires to ensure that you continue to receive support and upgrades.

Bug fixes are included within the lifetime of your use of the product regardless of whether you have technical support/product updates. As long as we can replicate the bug in our extension on a clean version of Magento (using a version that is supported by your version of the extension), then we'll fix it free of charge.
Issues and Support
If you experience any issues with the extension, please do the following:
Document in detail what has happened.
Include screenshots and error messages.
Visit: www.ontapgroup.com/customer/account/ and create a new account (if you do not already have one).
Once logged in, click on MY SUPPORT TICKETS, and then the Submit a Ticket button to create a new support ticket.